Chapter I…The Vulture
'Our bird of prey, our vampire of the night, greedy and ruthless, waiting in anticipation to feed on the vulnerability of others'
The look
The Vulture Tapestry, a body veil in silk tulle depicting large oversized skeletal bird skulls, fluttering insects, mysterious winged creatures, curiosities of the undergrowth, all framed with botanical illustrations.
Moulded Stingray Vulture Mask, twisted and sculptured layered lashes with unique jewelled diamond white eyes.
Stingray Pants in ebony black and diamond white.
Creating the Silk Tapestry Veil
In the same way as drawings explore an idea over pages of a sketchbook, the Vulture tapestry tells a story depicted in embroidered sketches over a length of fabric.
From the dark and morbid fascination with skeleton birds through to the symbolism behind the botanical illustrations this is a personal story of childhood imaginations and fantasy.
The fine detailed skeletal drawings on the silk explore the juxtaposition between fragility and strength in nature, the thistles representing aggressiveness, pain, protection and even pride and the sunflowers and iris embroideries, all representing devotion, loyalty and love.
The Tapestry, an embroidered autobiography by Steph Aman, created chapter by chapter in 100 hours.
The History
As a child Lace fascinated me. I would stare at it for hours studying the intricate web of threads. Later as a design student, this tactile fine structure continued to resonate within me and I knew I needed to create something that had the quality of lace work but could reach a darker depth also. The concept was to see beauty on one level but something darker on another, as in life both sitting comfortably side by side.
My desire to create this particular tapestry with all its symbolism and story of childhood was my piece of mourning jewellery. Like the Victorians created beautiful objects to mourn the passing of a loved one, this is my object of desire, love and loss, to mourn the passing of childhood and innocence. Its my keepsake, my memento, maybe even my story!
With the benefit of hindsight looking back on 20 years of creating embroidered silk wear, all my creations look 'pretty on the outside' but on closer inspection its not pretty floral lace you are looking at, its skeletons and insects, slightly sinister and creepy, all creating a sense of unease, yes, definitely my dark childhood imagination has not left me!
Stingray, also known as Shagreen has a pearl like jewelled surface, the white diamond featured on the skins are the more pronounced 'pearls or thorns' of the skin. It is without exception the toughest leather skin to create and sculpt with, so obviously we were immediately attracted to it. The Vulture masks are sculptured and moulded from the Stingray, the diamond eyes have been 'transplanted' from matching donors and the layered claw like lashes are twisted and shaped around the face resembling a set of antlers.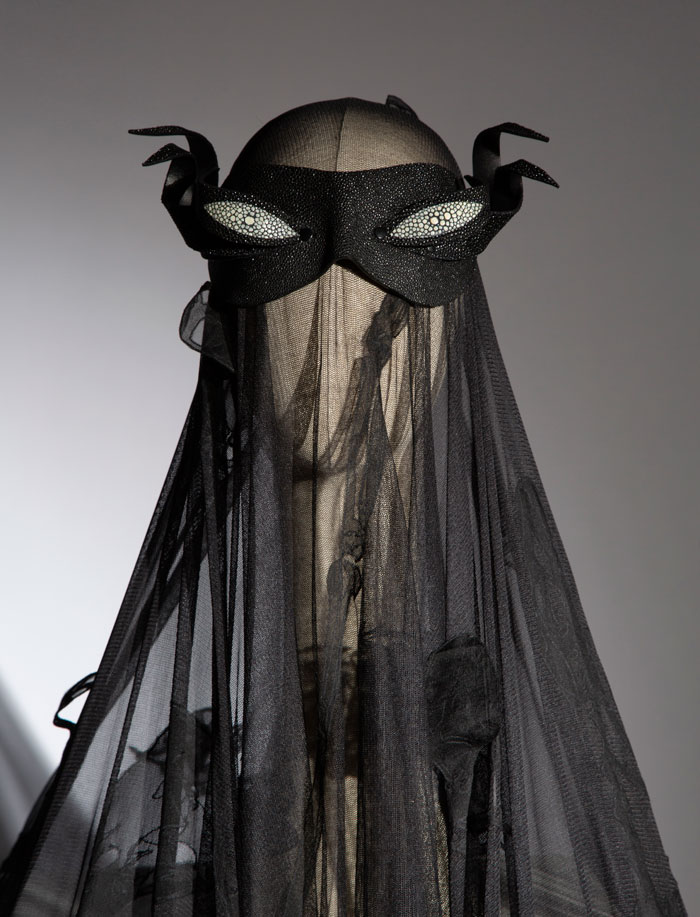 Mood & Emotion
The feeling watching the Vulture is Messiah like, more of a celebration of life than a dance of death.
Of all the looks we created in 'Tales of a Butterfly Collector', the Vulture is the most free and apparently with no restriction. However, perfect and beautiful and free as she is, the beauty is only skin deep, the vulture has limited vision so only we can appreciate her. We are all the voyeurs watching a private dance, a private moment.
So in fact it is voyeuristic and restrictive just like everything else we do. Can't seem to get away from it!
The setting for the Vulture's dance is misty, foggy, cold, icy cold with a Wake of Vultures, perched and in mourning.
On a more personal note, after 30 years working in the fashion industry, The Vulture's inclusion in our story was a must. We have met a few!
Sound
Nick Cave, Abattoir blues, A Clockwork Orange, Music for the Funeral March of Queen Mary